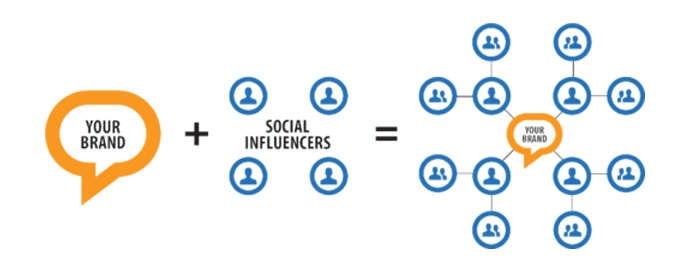 In the past marketers advertised on T.V and sent ads by mail. Families didn't spend more time at work than they do at home. Families had time to have dinner and watch T.V together, so it made sense to have a commercial on T.V. Netflix, HBO and Showtime changed the game, today's consumers watch less and less cable.
Nowadays, brands have to be creative and find ways to be seen by customers. Thankfully the rise of social media has given marketers another platform to advertise to the consumer. A platform that many of us enjoy and spend most of our free time, watching nonstop content from our friends, influencers, and strangers for the most part. Social media makes it easier for marketers to advertise to their target audience. They can be as creative as they like and also work with whomever they want. They don't have to spend millions of dollars to advertise and they advertise to their target audience. Marketers/Advertizers and brands have somewhat control over this new form of advertising.
Influencer Marketers
Influencer Marketing is a form of marketing that focuses on targeting key industry leaders to drive brand message and awareness to a specific market of consumers. Influencers make and post content on blog sites and social media platforms. Influencers typically have a niche in whatever industry they choose.
Benefits of Influencer Marketing
Influencers have a knack for social media. As I have mentioned in my previous posts, influencers live and breathe social media. This is why brands love them, Influencers can post content all day, this is natural to them.
Engagement. Influencers engage with their customers, it's part of their strategy and they know it works. If you want to create a loyal following and keep your name in their head, with all the competition. You need fresh content, keep reminding them that you are still here. Influencers keep customers engaged and make them feel like they are part of the process "involved".
Feedback. Influencers ask for feedback from their followers, this is another way to engage with your customers. Customers love to know that you care, you took the time from your busy schedule to ask them how they feel about your product. Influencers post outfits and ask if they should wear outfit A or B.
Content: Influencer's primary job is to produce content without content, they have nothing. They spend hours planning, recording or writing content. Creative content and keyword usage can move you up the ladder on Google. Leave the creative control to the influence, as Gary Vee states, let the dj do her thing.
Likes/shares and Comments. Influencers know that being seen is what gets them a paycheck. They encourage people to like, comment and share their posts daily. Influencers can encourage their followers to do the same for you.
Traffic. Influencers can drive traffic to your page, they can add links to the product they advertise for you. A call to action also helps in this situation. They can add a discount code as well, which is a great way to get traffic to your page and don't forget freebies. We love freebies, don't we?
Giveaways: Influencers can host a giveaway with your sample products. Don't you love when you go to Sephora and you can try before you buy a product? How about the free samples at Ulta beauty?
Reaching Out
Now that you know why influencer marketing is taking over, we can conclude this with a shortlist of things you can do to reach out to consumers.
Send them an email: Unless their account does not have an email account, sending a DM, is not professional. Sending someone a DM is the fastest way to lose credibility. If this is your only option, the DM should look professional.
If you are a marketer try to find marketers in your industry, you can search through social media channels.
You can also use Influencer Marketing tools like Traackr
1.Traackr a system of record for all types of influencer marketing including advocacy, gifting, and paid partnerships.
Services offered:
1. Search bios, captions, and content on 12 platforms
2. Identify top-performing influencers at every tier
3. Filter by demographics, follower count, engagement rates
Read my previous posts on influencer marketing.