Most people use social media to communicate with friends and family or show the world their glamorous life. However, if you are trying to grow your business or personal brand, social media has a different purpose. In the beginning, we all thought that social media was all about sharing images and getting likes and comments in return.
We have learned that social media is more than that. We can make a career out of it, a much more lucrative career than a 9-5, or boost company revenue. For Brands and marketers, social media is about creating awareness and boosting revenue. Marketers have to prove to their managers that social media is worth the time and money they put into it. To allocate money to social media, they would have to prove social media ROI. So how can marketers maximize ROI and convince their heads that it is worth having?
What is Social Media ROI?
Social media ROI "is a measure of all social media actions that create value, divided by the investment you made to achieve those actions."
Five Ways to Maximize Social Media ROI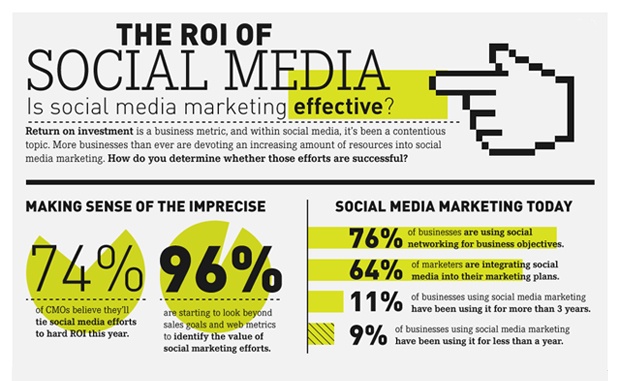 Social Media Strategy: A plan equals success. Treat social media like anything of importance in your life. Starting a family, relocating, attending grad school all require much planning and thought with a goal in mind. Planning applies to social media; it allows you to stay on track and make your social media campaign's best content. Otherwise, things like vanity metrics that don't translate to sales and building a loyal fan base will excite you. Unless you go viral, you should invest time and money to ensure long term success.
Social Media Platforms: There are 75+ social media platforms, that does not mean you have to be on all of them. Market research can lead you to the right platforms, and potential customer's hang out spots. To boost ROI, the platforms you choose should fit both your marketing goals and your audience.
Social Media Advertisement: Organic growth is a thing of the past, there is too much competition, and everyone is fighting for the same customer. Luckily, many social media platforms offer users the opportunity to advertise and expose themselves to a broader audience. Promoting high-quality posts improves your ROI by exposing you to potential customers who wouldn't have found you.
Social Media Influencers: Like it or not, influencers have become an essential part of marketing. Influencers can help you build brand awareness and expose you to their audience. 63% of consumers trust influencers more than they trust brands and will purchase from a brand an influencer claims to have hard a positive shopping experience.
Social Media Performance: First things first, set social media goals. By setting goals, you know what to measure and allocate your budget for the best results. Ask yourself why you are using social media. Is it for Vanity metrics such as views, followers, subscribers, or building brand awareness that leads to consumers purchasing your product? Marketers should look beyond vanity metrics and track the right KPI's to reach qualified leads and Maximize ROI. 10 million followers mean nothing if they are not engaging with your posts. Are they inquiring about your products or hitting the like button and moving on? Vanity metrics are dangerous, and they make us believe that we are successful at social media, but what's the point if likes and comments are not translating to sales?
Final Thoughts
Social media is a great way to showcase your product or business, and we can all agree that it is impossible to advertise every post. However, to maximize ROI, brands should not rely on organic growth and ignore advertisement value. To improve traffic to their platform's brands should produce great content outlined in their social media strategy. We cannot throw anything against the wall and hope it works without a plan. A plan outlines our goals; this keeps us focused on what we want to achieve on our platforms. It allows us to keep track of KPIs and measure performance. Marketers should determine what social media platforms their ideal customers are using and collaborate with influencers. Influencer marketing is an excellent source of advertising and sometimes an inexpensive way to boost revenue.